Beamer Pastries is a rustic artisan style bakery all the way from the south of Namibia. The 23-year-old baker and entrepreneur, Riaan Losper, sheds a little light on how he runs his one man show. He also talks about how he manages to stay at the top of his baking and business game. Moreover, he's sharing some expert tips to help you improve your baking too!
---
1. Did you always know you wanted to be a baker ?
"I never knew I wanted to be a baker. I find it interesting actually, because when I was little, I always said I want to be a lawyer, but then in primary school I was very intersted in computer hardware. I mostly used to fix and work on them and I thought that's what I was gonna do for the rest of my life, but then my parents took me to a school where they test to see in which field you're most likely to succeed."
"The test showed that I was compatible with the hospitality industry, I was against it at the time and only wanted to fix computers. I later dropped out of high school. I was very disobedient in school, so I did nothing for a whole year. At 18, I found out that I could do chef courses at Namibia University of Science and Technology (NUST) , so I joined."
---
2. When did you start baking and what inspired your interest in baking ?
"I actually remembered that when I was little I always tried baking, but always failed badly, so I didn't give it much attention. While I was at NUST we were mostly taught how to cook, the baking came naturally. I started baking cookies and selling them to the other students. While at NUST I started my business."
---
3. What are the misconceptions that people have regarding baking and dealing with pastries?
Sugar is only for sweetness– "It's not. It affects the texture of the bake."
Salt does not matter in baking– "It's very important. It brings out the flavour even in a sweet bake."
Butter and margarine are the same– "They aren't. The excess water in margarine can effect your bake negatively."
If you follow your recipe, you will succeed– "Actually, no product knowledge and technique plays a much bigger role than following a recipe. It took me 2 years of baking bread to get my bread baking technique where it is. It could still improve, there is always room for improvement."
Baking is quick– "Some bakes are quick, yes, but they aren't the best bakes. Time and bacteria are your friend when it comes to baking."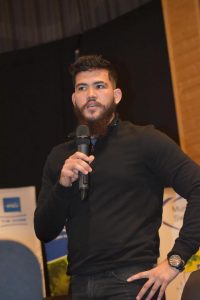 4. What else do you do besides baking and how do you balance doing that and baking?
"I am invested full time in the business, but when I am not baking, I am busy with self education on financial literacy, economics and psycology. Which will affect my current business and future ventures positively."
---
5. How is your business doing?
"Business has been booming since I started. I am currently busy revamping the business model for a greater and more positive outcome."
---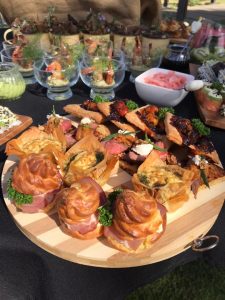 6. Do you plan to branch out to other towns?
"I do plan on branching out. I am based at the bottom of the south of Namibia, so it would be wise to branch out, town to town."
---
7. What are the pros and cons of being a business owner?
Pros:
"You can start small, focus on a specific bake and grow from there."
"Gaining a loyal customer base is easy; once people taste my bakes and enjoy them, they'll always come back."
"You can specialize in a specific product or service; let's say i.e bread and cookies and still make it a success. You can be creative with it."
"Choose a sustainable market. Everybody needs bread daily, somebody has a birthday everyday and everyday a kid wants a cookie."
Cons :
"I will always have competition, so I always have to be on my toes and keep improving my bakes. The goal is not to settle."
"I'm dealing with food, so the levels of regulations and compliance are a lot."
"The high price of ingredients, especially if your focus is high quality bakes."
"There are unfriendly working hours. I enjoy them, but most business people don't."
---
8. What sets you apart from other bakers and baking businesses in your industry?
"Beamer Pastries is a rustic artisan bakery which focuses on premium high quality baked items only. We try our best to use only the best ingredients and baking techniques whilst trying to give society access to it at a reasonble price. There are also not many artisan bakeries in Namibia."
---
9. What has kept you motivated throughout this journey?
"What has kept me most motivated is my faith in Christ and with the vision he has given me. Also, seeing my personal growth and business growth throughout my journey so far has helped tremendously. I always look for the positive in every negative event. There are always ups and down, but I try to take each challenge head on."
---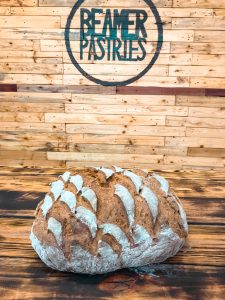 10. What are must-haves in the kitchen and what are the dos and don'ts of baking?
"You need measuring equipment and tools. A spatula, whisk, scraper and of course, an oven. Always invest in a good oven if you have mastered your techniques. Your oven can only make them better."
"Never rush baking, especially bread and even cookie dough. Always let them rest before and after baking and don't be afraid of heat. I usually bake on high heat and it's usually only the very light pastries such as macarons which you should be easy on."
---
Bonus question: What advice would you give an aspiring baker and business owner?
"To the baker; I would say, practice, practice, practice and try new baking new things. Test your strengths, gain product knowledge and focus on perfecting your baking techniques."
"To the business owner; I would say, never give up focus on your self-development. Your business can only grow if you grow. Focus on all important areas; on the business too, not only on your product or service. Learn the economy, study the markets and be disciplined."
---
Riaan Losper found a way to think outside of the box without having to completely destroy the box he already had. This is not only commendable but inspiring. If you're ever in the south of Namibia, make sure to pay Beamer Pastries and it's owner a visit (with the intention of buying something, of course).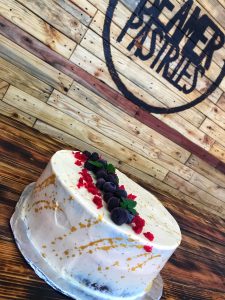 Aesthetics are very important to Losper, so make sure to check out and follow Beamer Pastries on Instagram. You should probably prepare yourself for some drooling too.
---
Make sure to follow Francineth Kate Bauleth on her socials and read more of her articles on here.