A cocktail for every occasion
What's better than getting together with your friends to enjoy and celebrate each other over yummy cocktails? And if you're not big on alcohol, don't worry, there's virgin options just for you!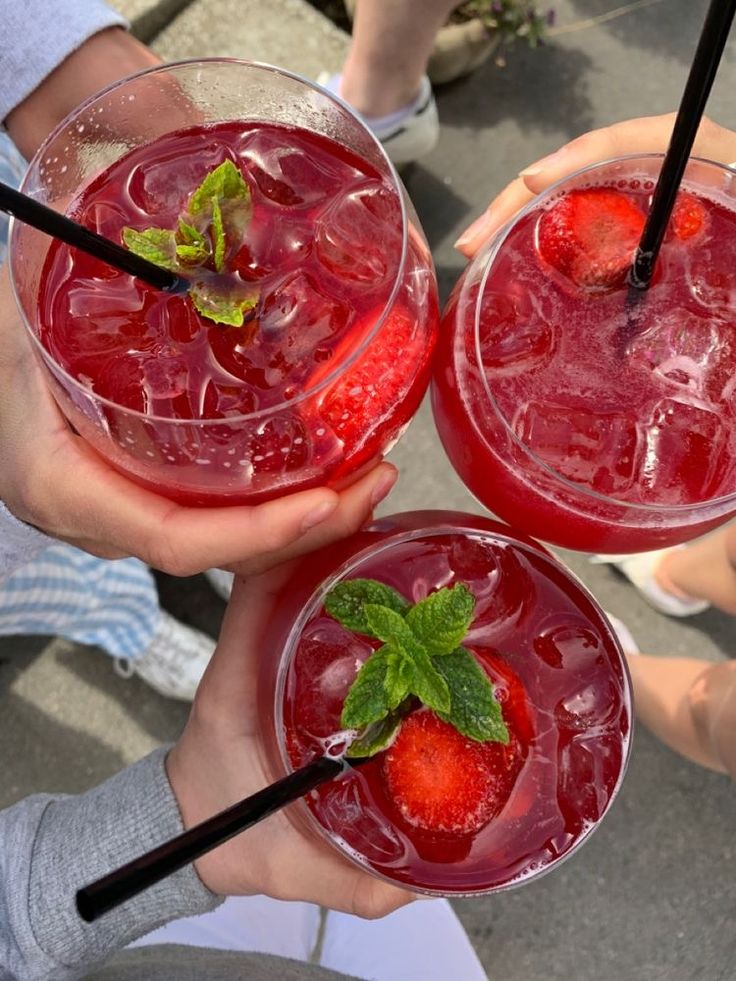 Alcoholic Cocktails:
Sweetheart Martini by The Little Crumb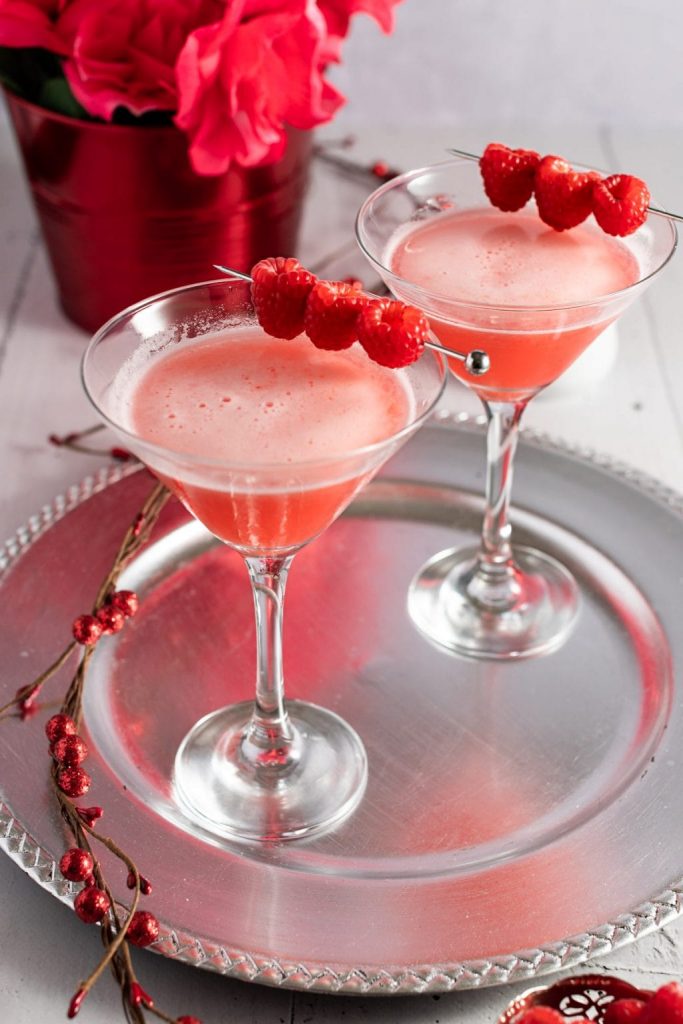 Ingredients: (one serving)
Raspberry Simple Syrup:
·⅓ cup raspberries
· ¼ cup granulated sugar
· ⅓ cup water
Raspberry Martini:
· 1 ½ oz vodka
· 1 ½ oz raspberry simple syrup*
· 1 ½ oz lemon juice
· handful of ice
Instructions
First make the raspberry simple syrup: Heat the raspberries, sugar and water on a saucepan over medium to high heat, stirring occasionally. Bring the mixture to a gentle simmer. Do not boil. Continue to simmer for 5 to 10 minutes as the sugar dissolves. Remove the syrup from the heat and let it cool slightly. Then, pass it through a fine mesh strainer.
Next, make the raspberry martini: Add the vodka, raspberry simple syrup, lemon juice and ice to a cocktail shaker. Shake vigorously for a few seconds, until the outside of the shaker is frosted. Pour into a martini glass and serve immediately. Enjoy responsibly!
TIP: you can purchase the syrup if you don't want to make your own. Just make sure it's good to mix in drinks.
---
Beach Please! Frozen strawberry Daiquiri by BBC food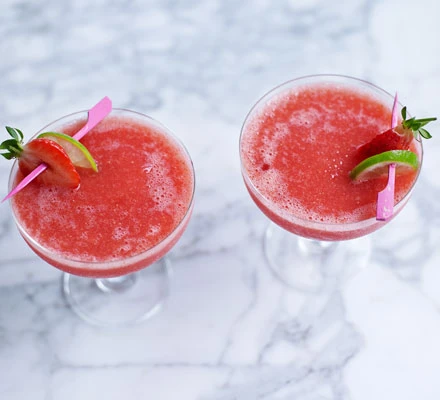 Ingredients: (two servings)
· 500g strawberries, hulled
· 200g ice
· 100ml rum
· juice 1/2 lime
· 1-2 tbsp. sugar syrup, optional
· Blender
To Garnish:
· 2 slices of limes
· Strawberry, halved
· 2 cocktail sticks
Instructions:
Blend the strawberries in a blender then push the resulting puree through a strainer to remove some of the seeds. Tip the strained puree into the blender again and add the ice, rum, 1-2 tbsp. sugar syrup depending on how sweet you like your drinks and lime juice. Blend again and divide the mixture between 2 Martini glasses.
Thread the lime slices and strawberry halves onto the cocktail sticks and place onto the edge of the glass, serve immediately.
---
Strawberry Ice Cream Champagne Floats by salty canary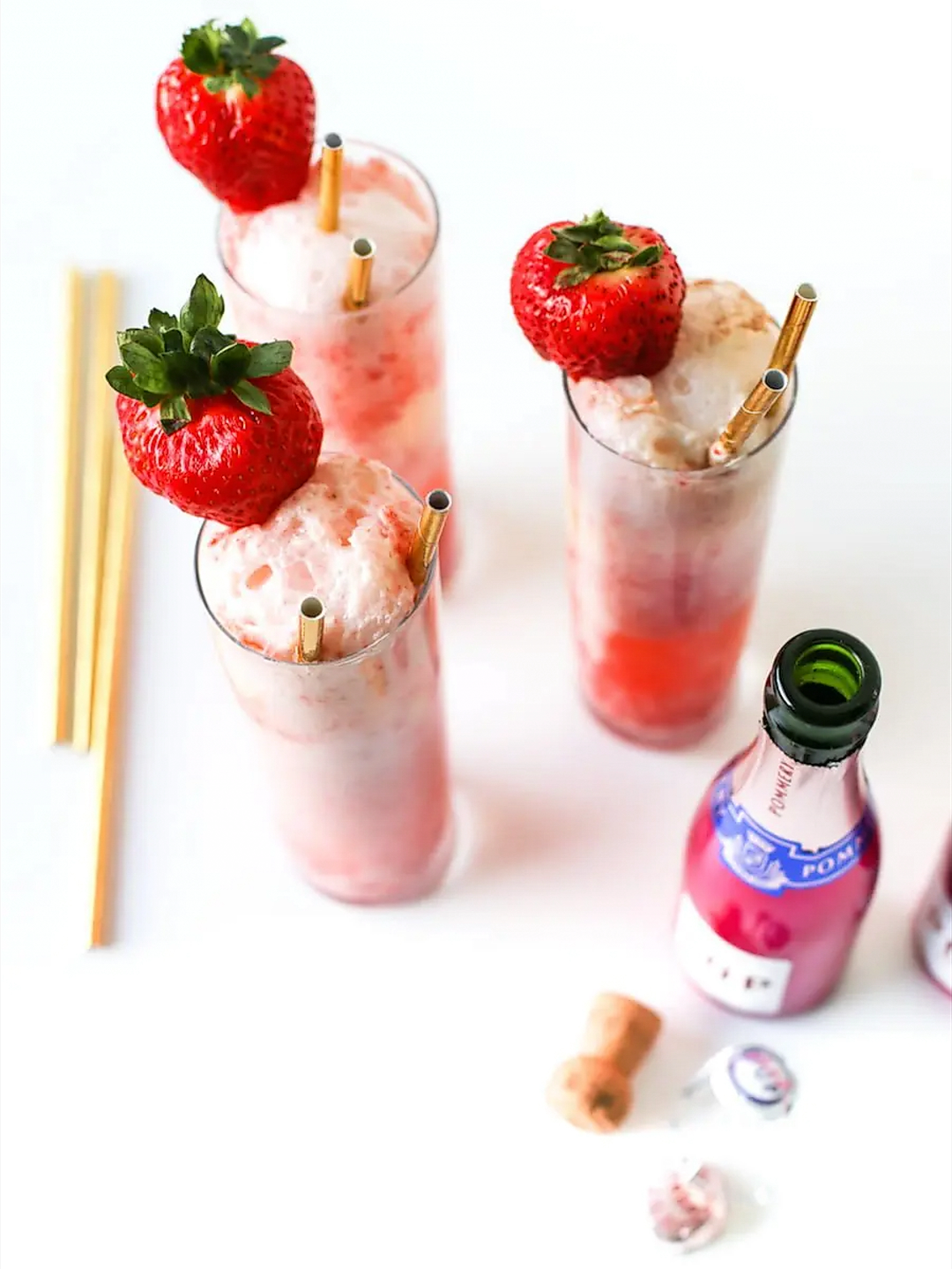 Ingredients: (two servings)
· Vanilla ice cream
· Champagne
· 2 cups strawberries, divided
· 1/3 cup granulated sugar
· Saucepan
· Straws
Instructions:
First, wash your strawberries and set aside a few to use as a garnish on top of your glasses.
Next, combine the remaining strawberries (about a cup and a half) with the sugar in a blender and mix, then add to a medium saucepan and heat over medium low for 5-10 minutes while stirring occasionally. Cool in the fridge.
Add 2-3 scoops of ice cream to each glass, then top with 1/4 cup of strawberry mix.
Add a couple straws, pop open the champagne and pour carefully into each glass.
Top each glass with a strawberry and toast!
Enjoy immediately as the float ingredients will quickly separate and will need to be stirred.
---
Virgin Cocktails:
Virgin Pomegranate and Cranberry Bellini by taste & tell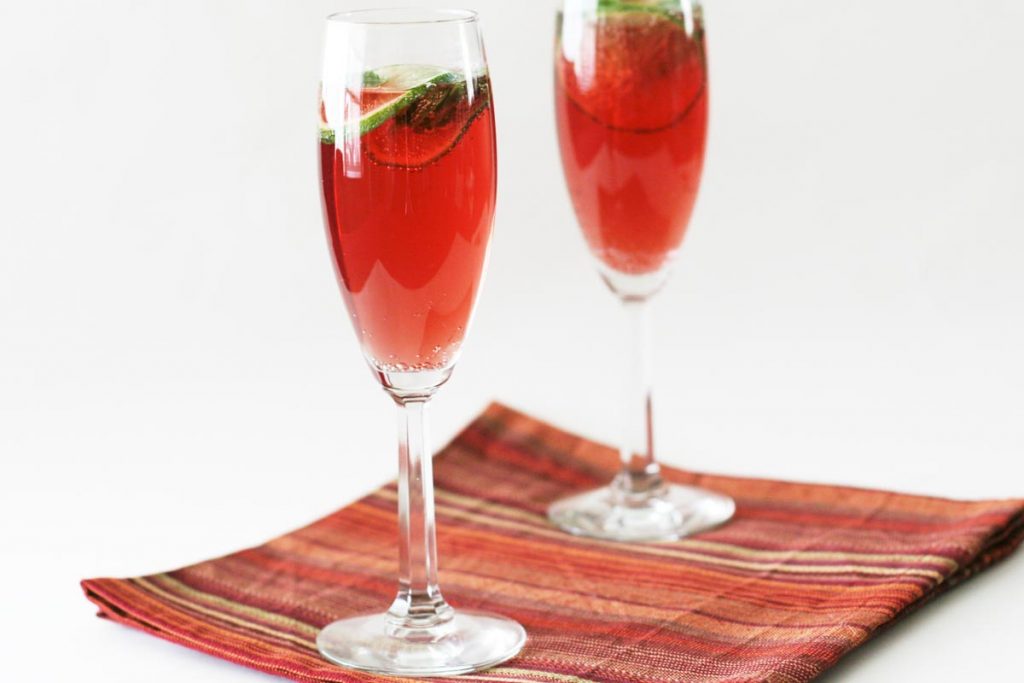 Ingredients: (eight servings)
· 1 cup water
· 1 cup sugar
· 1 ¼ cups pomegranate juice, chilled
· 1 cup unsweetened cranberry juice, chilled
· 1 (750ml) bottled sparkling water, chilled
· 2 limes, thinly sliced
· 1 bunch of fresh mint, for garnish
Instructions:
In a saucepan, components water and sugar over medium heat. Bring to boil, reduce heat and simmer for 5 minutes, stirring occasionally, until sugar has dissolved.
Take pan off the heat and allow the syrup to cool.
In a 6-8 cup capacity pitcher, combine the cooled water/sugar mixture, pomegranate juice, cranberry juice and sparkling water.
To each glass add a slice of lime and a spring of mint. Pour the Bellini mixture into the prepared glasses and serve.
---
Strawberry Pina Colada Lava Flow by brooklynactive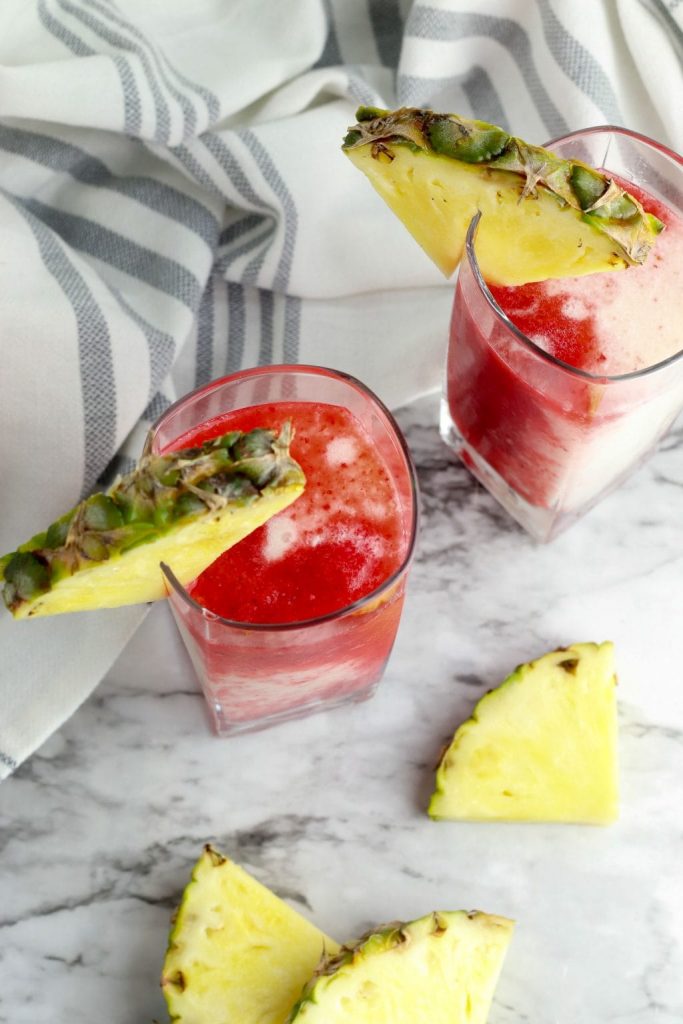 Ingredients: (4 servings)
· 1 280g package frozen strawberries with sugar
· 240ml water
· 240ml pineapple juice
· 240ml cream of coconut
· 3 cups ice
· A blender
Instructions:
Place the frozen strawberries and water in a blender and blend until smooth. Pour into the bottom of four glasses.
Rinse blender to keep the colour of the coconut and pineapple and pour the pineapple juice , cream of coconut and ice cubes. Blend until smooth.
Pour into the glasses over the strawberries. As you pour, the strawberries will swirl with the coconut mixture creating that lava flow effect.
---
Pink "Not" Champagne by Modern day Mom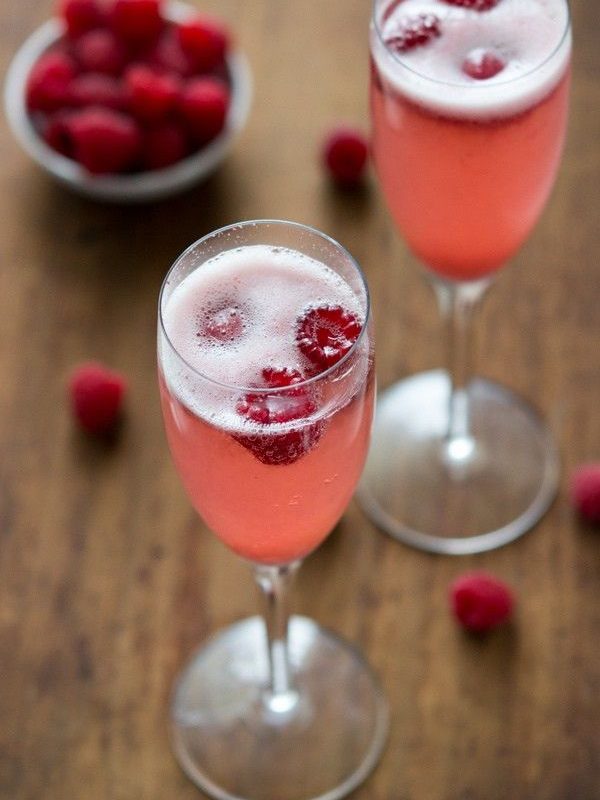 Ingredients: (two servings)
· 1 ½ cups sparkling Apple cider, chilled
· 1 ½ cups sparkling cherry-flavoured mineral water
· 1 cup cranberry juice
Instructions:
Mix all the ingredients together well and pure into glasses.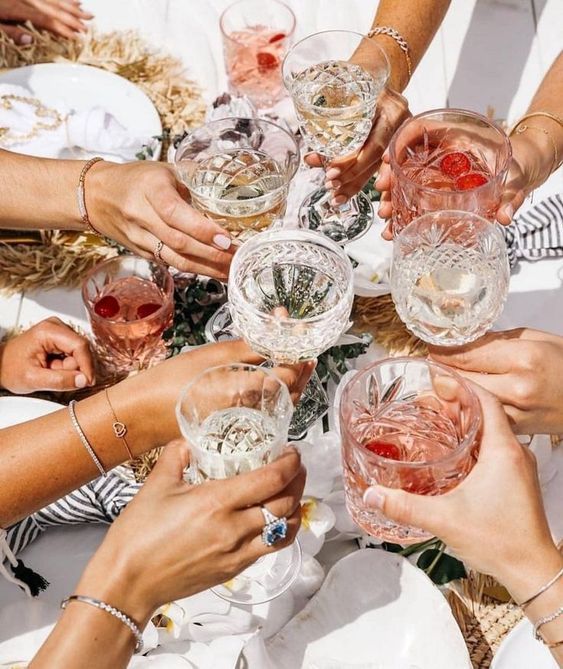 ---
Looking forward to seeing you try these refreshing and yummy cocktail recipes with your friends.
---
Don't forget to tag us. Happy catching up sessions!