World Blood Donor Day is celebrated globally on June 14, as declared in 2004 by the World Health Organisation (WHO).
---
The Blood Transfusion Services of Namibia (NamBTS) and the Ministry of Health and Social Services (MoHSS) have collaboratively joined WHO in commemoration of this day under the theme, "Donating blood is an act of solidarity. Join the effort and save lives."
The process of collecting blood and/or blood products from human donors and then transfusing them to another human recipient in need is known as blood donation. One blood donation saves 3 lives.
The initiative's goals are to raise global awareness of safe blood and blood product donations and advocate for sustainable safe blood donation. Most importantly, it aims to gratefully recognize the life-savers who donate blood and blood products on a regular and voluntary basis.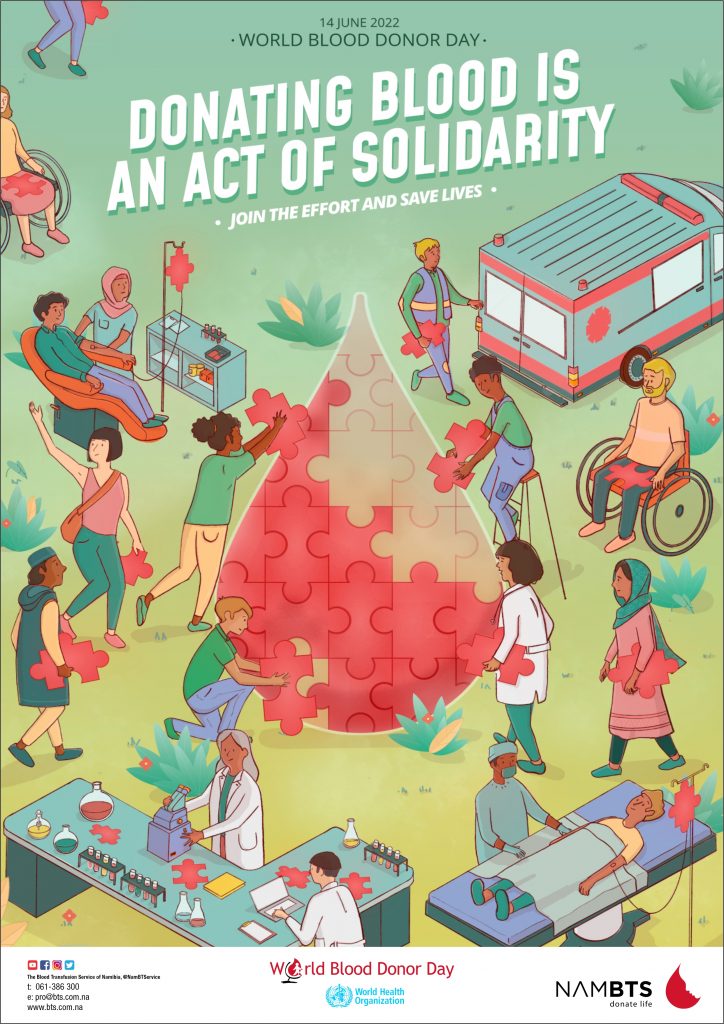 ---
Why Donate?
According to the NamBTS, there has been a national critical blood shortage of more than 160 donations needed to meet the demands of patients daily.
Regular, safe, and adequate donations of blood and blood products are life-saving and life-sustaining. They are essential in the management of medical and/or surgical emergencies, such as severe anaemia and cases of acute blood loss associated with pregnancy and childbirth, inherited bleeding disorders, and major traumatic events such as motor vehicle accidents, to mention but a few.
Maintaining an adequate supply of uninterrupted access to blood and blood products through donations made by as many unpaid, voluntary donors as possible, vitally saves many lives.
---
A Recipient's story
Helena Black, 84, is a living testimony of the numerous lives saved through blood donation. In May 2022, she suffered severe anaemia, which required up to 4 units of blood to manage and correct. She thankfully survived and recovered well. Had it not been for the blood donated, she possibly could have sadly been part of the statistics of the preventable deaths due to the blood supply deficit.
Black's daughter, Victoria Kazondjandja, 67 years old, expressed how that incident was a wake-up call for her and should be for many Namibians out there that blood donation saves lives. She, therefore, took it upon herself to get a medical checkup to start donating and vowed to encourage her children to do the same—an act of solidarity and joined efforts. Kazondjandja further extended her gratitude to the blood donors who saved her mother's life.
---
Donor Criteria
• Older than 16 years old
• Weighs at least 50 kg
• Lives a sexually safe lifestyle
• In general good health (Not ill at the time of donation)
---
For more information, check out NamBTS' website here.
Follow me on Instagram for the vibes!