Want to get into skincare but you don't know where to start? Well, this article is for you. I'm going to help you build a basic skincare routine that works. But first, what's your skin type?
---
Know Your Skin Type:
Knowing your skin type is the first thing you need to know before buying skincare items. Most skincare products are formulated to work best on specific skincare types. For example, you wouldn't want to use a foaming cleanser, that normally removes excess oil, on dry skin. For that, you'll need a hydrating cleanser.
Here are 5 common skincare types:
1. Oily Skin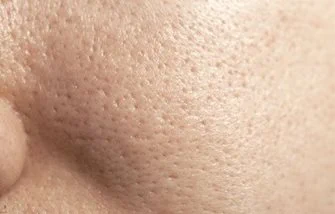 Oily skin is the most popular skin type. This skin type is caused by excess fat production and sebum which it is often determined by genetics or hormonal causes.
The skin appears shiny on all areas of the face with large pores near the nose area.
2. Dry Skin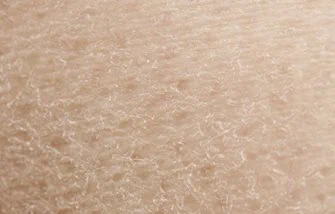 Dry skin is often flaky and some people might experience peeling. The skin lacks hydration and it can cause skin sensitivity. Using foaming face wash or exfoliating serums, such as Salicylic Acid Serums, can cause skin irritability.
The skin appears dry and ashy.
3. Combination Skin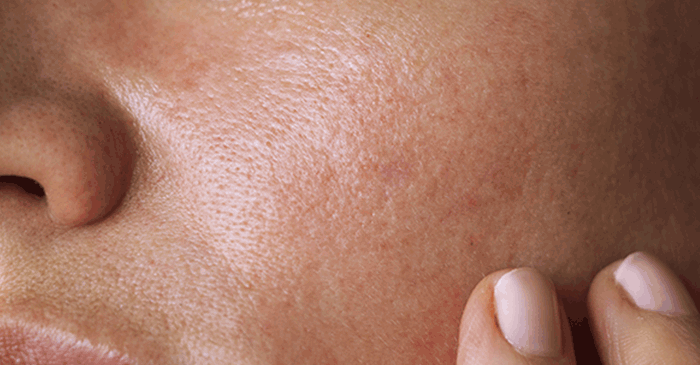 Next is combination skin is an actual combination of 2 skin types: dry and oily. It often causes extreme oiliness during summer and dryness in winter.
Cheeks are dry whereas the T-zone (forehead, nose & chin area) are oily.
4. Sensitive Skin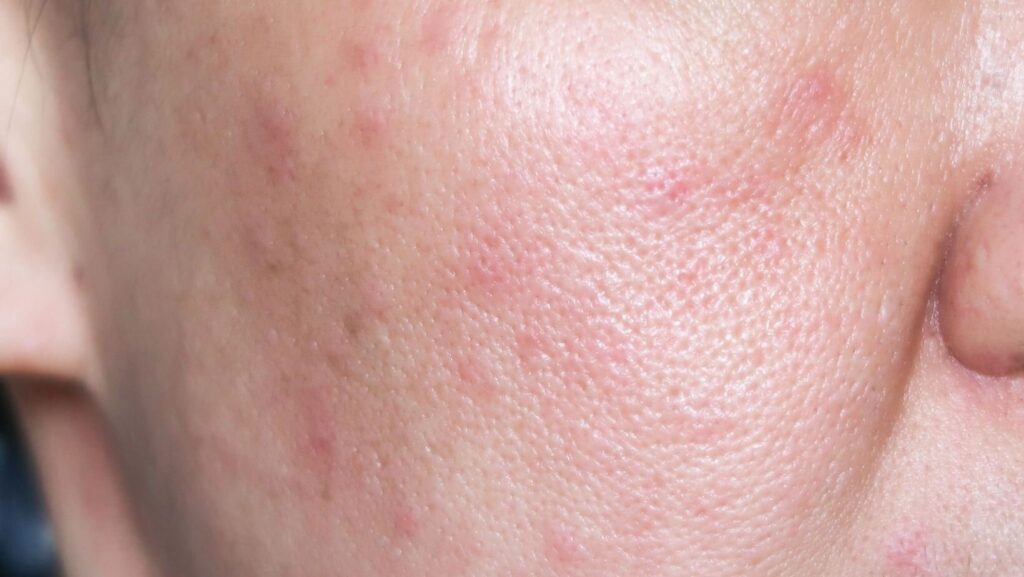 Sensitive skin is caused by overly-sensitive nerve endings present beneath your skin. Your skin is prone to reacting to products, especially those with actives such as Retinol, Salicylic Acid and Vitamin C.
Skin may turn red, itchy or small bumps appear on the skin when using a product.
5. Normal Skin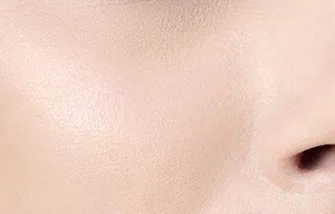 Lastly we have normal skin. And as I like to call them, God's Skincare favourites. Normal skin is neither too oily or too dry. It normally doesn't react to environmental changes or factors and it's the easiest skin type to take care of. However, it's not to say that the normal skin type doesn't have issues.
Normal skin is a perfect balance of dry and oily.
Building Your Skincare Routine:
Finally, let's build a skincare routine but before we do here's a disclaimer:
The items recommended below cater to all skin types however, it may not work for everyone. In the next skincare related article, we will share what products work best for each skincare type but for now we're focusing on how to build a basic skincare routine. Most of these products are sensitive skin friendly too.
Now that we got that out of the way, let's go!
1. Cleanse (AM & PM)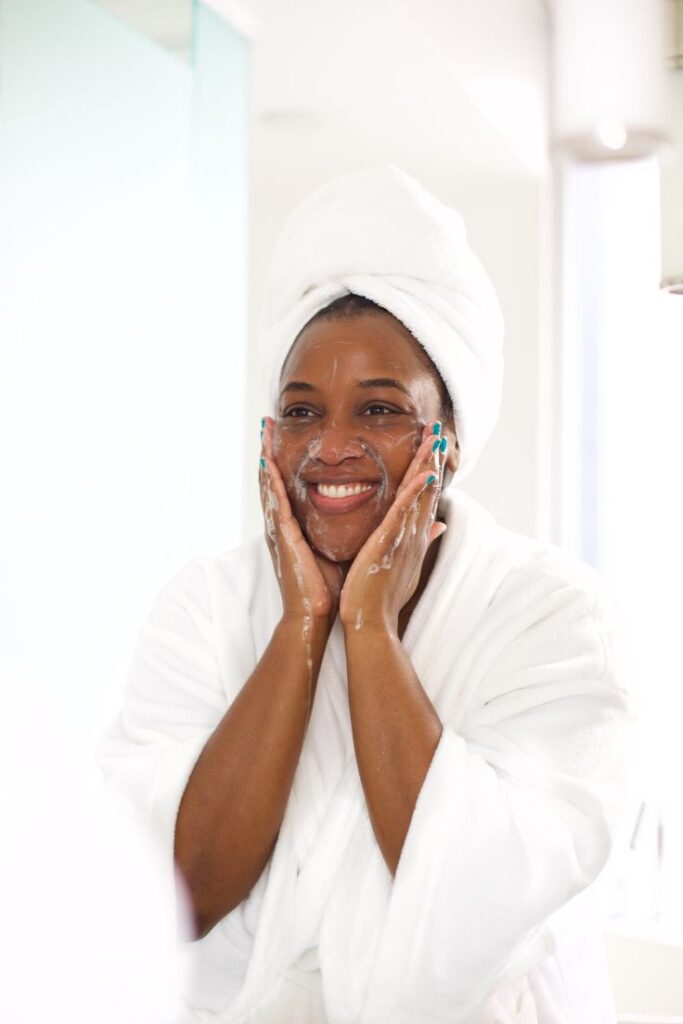 Before we wash our faces, let's WASH OUR HANDS. Cleansing is important to wash off dirt however, skin types that don't require a morning Cleanse like Normal skin. Other skin types, especially oily and combination skin, require a morning cleanse.
Cleanse your face using your hands and massaged the Cleanser into your skin for at least 60 seconds. If you're using a silicone brush, 30 to 60 seconds is enough.
Recommendations:
Nature's Nourishment Gentle Skin Cleanser N$ 42.00 (470ml) – all skin types
Nature's Nourishment Gentle Foaming Cleanser N$42.00 (200ml) – oily & combination skin
2. Tone (AM & PM)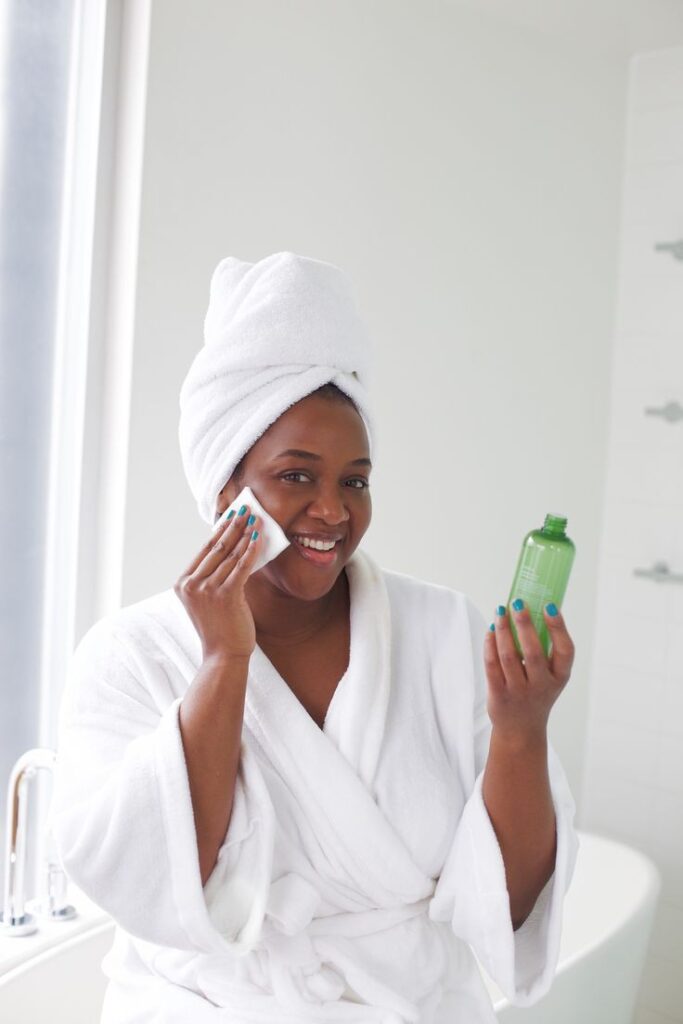 Next we tone. This step isn't necessary because in the past, toners were used to balance the pH of the skin that was thrown off by strong cleansers. Nowadays, cleansers are quite gentle, like the Nature's Nourishment Gentle Cleanser, so a Toner won't be necessary. Personally, I like to use a Toner to make sure I cleansed properly.
Apply a few drops of the toner in your hands and pat your skin or apply it onto a cotton pad and gently wipe your face.
Recommendations:
Portia Sensitive Skin Toner N$65.00 (200ml) – all skin types
IQ Clear Start Toner N$ 80.00 (200ml) – all skin types except sensitive skin
Nature's Nourishment Witch Hazel & Rose Water N$ 50.00 (250ml) – all skin types except sensitive skin
3. Serum (PM)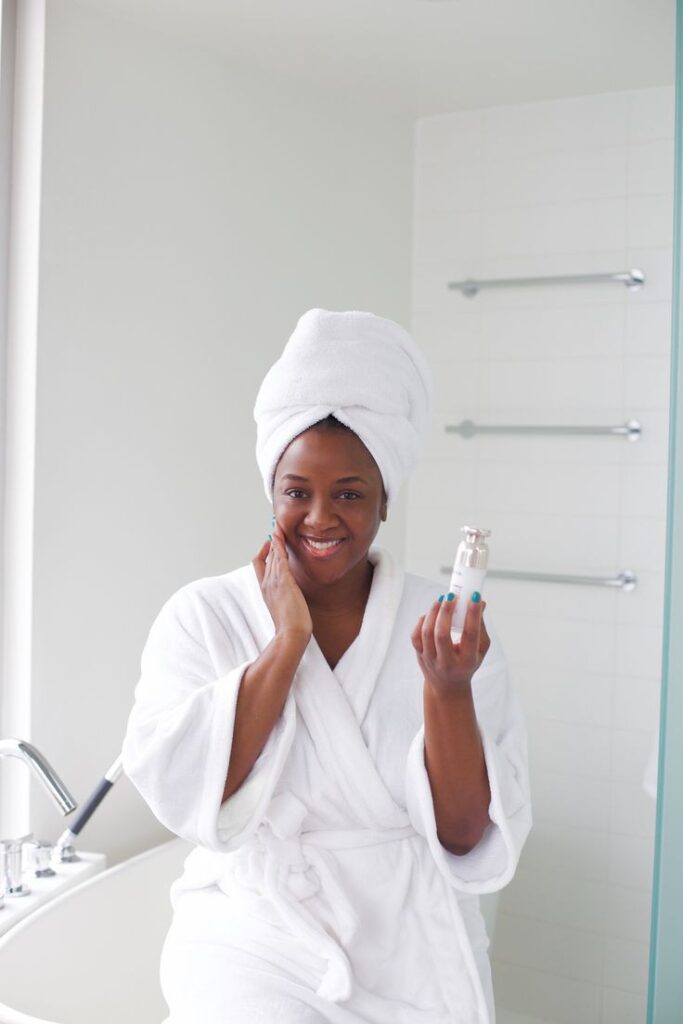 Serums are not necessary when starting out but if you want to, I recommended some serums below. So after toning, wait for your skin to dry before applying a serum but this normally depends on which Serum you are using.
Serums are used to help improve skin tone and texture, reduce signs of Aging, and fight specific skincare issues. Again, this all depends on the type of Serum.
Apply 2 to 3 drops of your Serum on your fave, avoiding the eye area and gently massage it into your skin.
Recommendations:
Garnier Vitamin C Serum N$ 150.00 (30ml) – fade dark spots, for even tone skin
Skin Integrity Hyaluronic Acid Serum N$ 115.00 (30ml) – hydrating the skin
Catrice Niacinamide 10% Serum N$ 155.00 (30ml) – fade dark spots, reduce pore size, etc
4. Moisturize (AM & PM)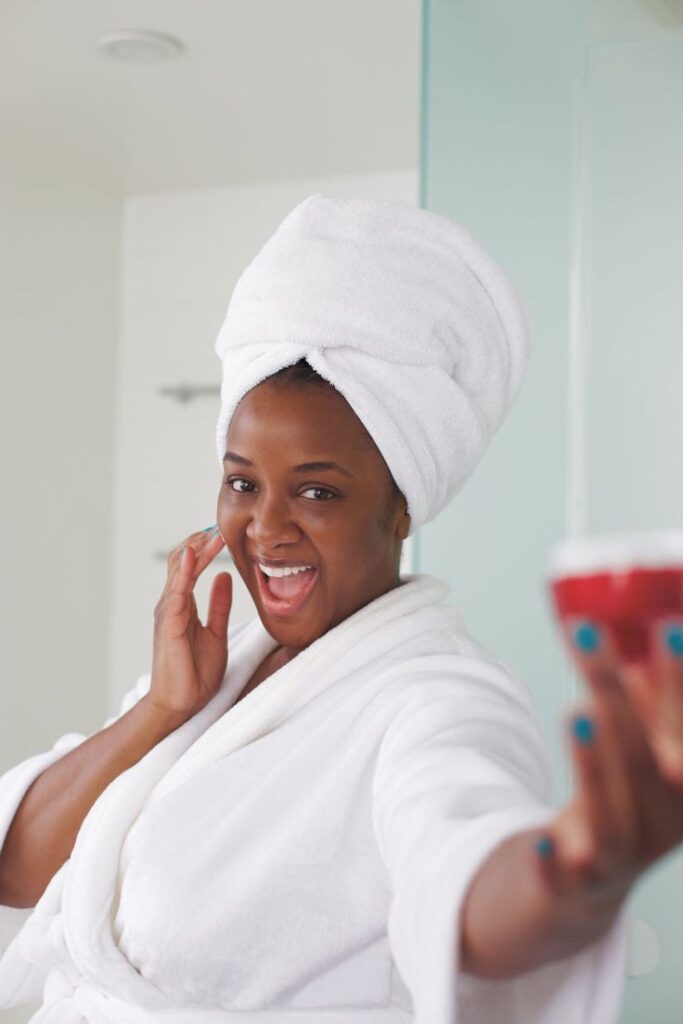 Moisturize, Moisturize, Moisturize! Once the Serum has set, apply a facial Moisturizer. Cerave and Cetaphil are expensive, yes but they last long and they are so gentle for your skin.
A Moisturizer helps to lock everything in, protect your skin barrier and hydrate the skin.
Recommendations:
Cerave Moisturizing Lotion N$ 200.00 (236ml) – all skin types
Cerave Moisturizing Creme N$ 250.00 (340g) – all skin types
5. Sunscreen (AM)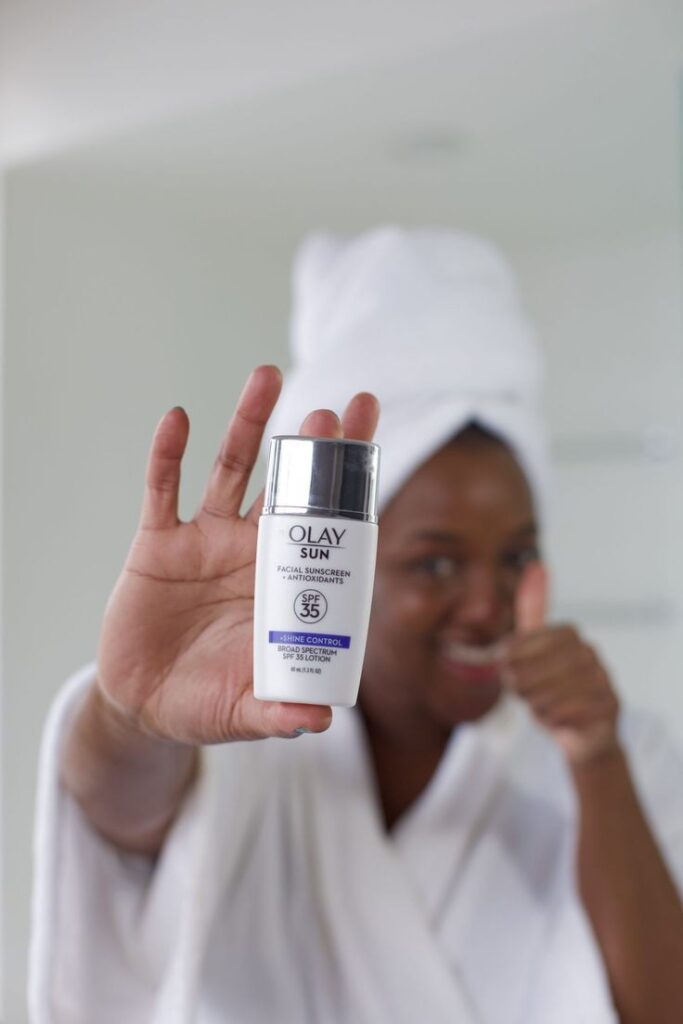 And finally, SUNSCREEN! The most important skincare step. Protecting your skin from UV rays can prevent skin cancer, signs of Aging and help with hyperpigmentation.
Apply to fingers worth of sunscreen and wait for 20 minutes before going outside. Your sunscreen has to be at least an SPF30 but the higher the better.
Recommendations:
Sunlab Face Sunscreen SPF 50 N$ 85.00 (100ml) – all skin types (do a patch test if you have sensitive skin)
Dermopal Sunscreen SPF30+ N$ 115.00 (100ml) – all skin types (do a patch test if you have sensitive skin)
---
We've reached the end of the article and I hope this will serve as guide in how to start and build a skincare routine. Take note that skincare is a process, it's trial and error and it'll take time, and money to figure out what works for you.
Also, starting new products can cause purging but it shouldn't last for over 6 weeks, if it does, STOP using the products immediately. Good skincare results take time and you may also need to consider looking at your diet and water intake.
My skincare advice:
1. DRINK WATER!!
2. Always apply sunscreen, no matter the weather. Your future self will thank you.
3. Skincare is worth the investment, but not all expensive products give the best results for you.
Good luck with your skincare journey!
*All prices of recommended products were obtained from Dischem. Prices are subject to change.