Bring the Big Apple's trendiest fashion to your closet this spring and summer. From basics blacks with a twist, pastels with cute winsome illustrations to fabulous florals. The options are both eye-catching and endless. So, meet the fashion designers who so vividly lived out their talents on the New York Fashion week runways.
First, Fashion Designer-Tadashi Shoji
The motto: take off into the wind! The designer fashioned pieces that exemplify pure grace and lush. Doing so whilst providing the lively spring mood!
Incorporate lacey and floral elements into your daily and eventful ensemble to achieve the look.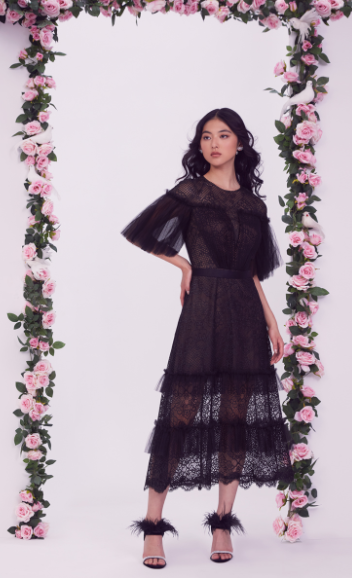 Second, Fashion designer-Madame Adassa
This fearsome designer has a touch of womanism and chic greatness to her collection. Summer Reign Collection is a celebration of life brought into being by 'the woman'. "For this collection, I chose the Dahomey Amazon Tribe as an inspiration while honoring my late mother who was my first introduction to love, kindness and a warrior spirit. The colors and are reminiscent of the sun as it rise to meet the earth that guides all life on the planet in sync with the woman who bares all within her," Adassa shared.
Thirdly, Fashion Designer Haleia
Designer Haleia described her collection to freedom. That being said Haleia woman prefers not to accept the rules that society expects women to follow. In fact, she sets new ones by being confident and just herself. Her best version of herself is her vision, not anybody else's.
The "BreakingFree" collection can be described as a flight of fancy: an evening-centric approach, proposing a series of gowns illustrated the craftsmanship and techniques. It consists of unique, colorful prints that are only created for this collection. Elegant volumes collapse into softer, gentler, fluid shapes. The play between fluidity and structure gave the collection character, appeal, and consistency throughout."
Last but not least-Moschino
The made in Italy designer fabricated pastels with a sweet touch. The endearing animal prints do indeed fit the spring look. By simply accessorizing outfits with pastel-colored jewels does the trick!
---
For more fashion loves compare the American Spring and Summer fashion trends to that of the latest European apparel. Yet remember that,
"Fashion is what you're offered four times a year by designers. And style is what you choose."

Lauren Hutton
So make the NYFW your own. By the simple use of color combinations or different fabrics. Make yourself feel comfortable and bold.