He enjoys being able to slay your makeup while making sure your nails stay fly! Eneas Shoikuti, 23, is a young man with an unexpected passion for beauty. He is a self-employed beautician who owns a beauty studio, Epic Nails and Beauty Studio, based in Ongwediva.
Shoikuti is a one-man-team, but that doesn't stop him from getting the job done. He has received training from some of Namibia's best, namely, Hannah Nangula Make-up Academy, Glamorous Nails and Anna Chosen Nails.
Find out how Shoikuti handles working in a female-dominated industry, and stick around for some beauty tips he shares with us all!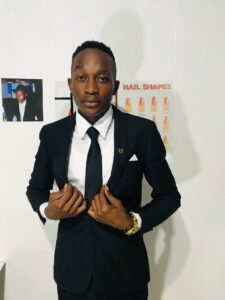 ---
1. Did you always have an interest in being a make-up artist (MUA) and nail technician?
"Yes, I had a this dream for a long time. What inspired my interest in beauty was that I felt like I would have more freedom to be creative. Not only that, but I can choose what I want to specialize in. I can pick to specialize either in weddings, special occasions, photo shoots, TV or movie production, which I believe will provide an opportunity to meet a range of clients from all walks of life."
2. When did you start your beauty business and what were the challenges you faced when you started it?
"I started in March 2021. I had my first nail training on the 6t and 7th of March 2021, and my make-up training was on the 4th and 5th of June 2022 with Hannah Nangula Make-up Academy. I had a lot of clients booking me, which was challenging for me, because I had to work for long hours. Adding on to that, there was the problem of funding my business. I spent every cent I had to buy professional & high quality products which was way too expensive for me."
3. What are the misconceptions that people have regarding male MUA's and nail technicians?
"Most people believe that it is not normal for a man to be in a female-dominated industry unless they are gay, but it's definitely not a rule. Regardless of what your gender-identity is, you should choose something you are interested in."
"Misconceptions like this will always exist, but it shouldn't stop one from looking into the benefits associated with being a male MUA/nail tech. We have so many talented male cosmetologist in the world, so why not in Namibia?"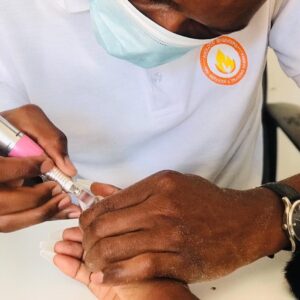 ---
4. Besides being an entrepreneur, what else do you do?
"Being an entrepreneur is the root of everything I do. I do electrical installations, carpentry, cabinet making, photography and graphic designing. I am indeed a jack of all trades."
5. Do you plan to branch out to other towns and what are the pros and cons of owning a business?
"Not so soon, but I definitely will."
Pros
"I'm doing something I truly enjoy."
"I'm my own boss."
"I make meaningful business connections."
Cons
"There is no income stability from month to month."
"The chemicals I use can sometimes cause skin irritation."
6. What sets you apart from other MUA's/nail technician businesses in this almost oversaturated beauty industry?
"I respect myself and my clients. I stay focused and keep my eyes on trends and techniques. I stay on top of different designs in demand and I provide a top notch service from start to finish, but all this wouldn't make any sense if I didn't have high quality make-up and nail supplies."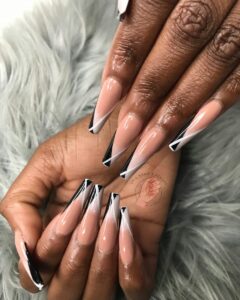 7. What are the must-haves in your workspace?
"There is a lot of things one must have. If I have to mention few must-haves regarding nails, I would say a nail desk, a quality base and top coat, variety of nail polishes, an LED nail lamp, disinfectants, gel or acrylic brushes, and a cuticle pusher."
"Regarding make-up, I need to have primers, foundations, concealers, eyeliner, lip liner, setting powder, eye shadows, and good lighting."
How you treat the people that keep your business alive is what determines how successful your business will be.
8. What has kept you motivated throughout this journey?
"My client's loyalty and their positive reaction to my work. Also meeting many people that helped me in forming professional connections."
9. What advice would you give an aspiring beauty practitioner and business owner?
"My advice to them is that there is nothing more beautiful than being friendly and approachable, because you need to know how to get along with different kinds of people. Have time management skills, be creative and professional, and make great connections with others. I honestly have so much to advice them on."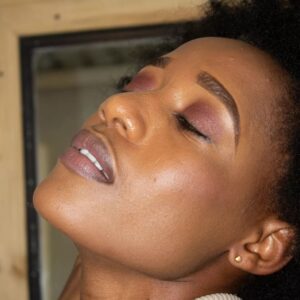 10. What are the three tips you'd give clients in regards to how they should treat their MUA/nail technician?
"Clients should always make appointments first, and they shouldn't show up without making an appointment. They should be on time and clients should respect the rules and regulations of every beauty studio, it's very important."
---
Eneas Shoikuti saw a gap in the market and took the opportunity to fill it. Even though he has to constantly prove certain stereotypes wrong, it doesn't lessen his passion to succeed. He also values his clients who are always important, because how you treat the people that keep your business alive is what determines how successful your business will be.
---
If you're ever in Ongwediva and are in need of someone to glam you up, make sure to shoot Shoikuti a DM at @epic_nails_and_beauty.
You may follow Francineth Kate Bauleth on her socials and read more of her articles on here.