Vegetarianism focuses on a meatless diet. It excludes red meat, poultry, and fish. Instead, one eats fruits, vegetables, and protein in the form of eggs, nuts, and beans. Though the health benefits are vast, only a small percentage of the global population has forgone meaty foods. But ditching the meat completely is not necessary; simply try a recipe or two every week!
---
Perks of Vegetarianism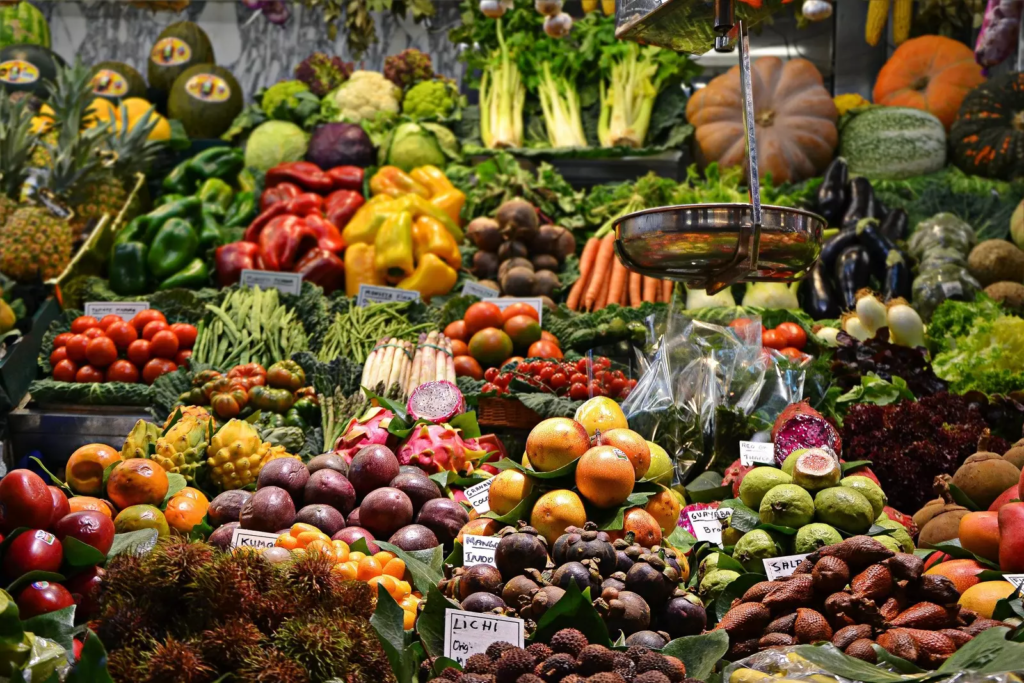 1. Boosting Heart Health
Vegetarianism encompasses a range of health benefits, as these greener foods have lower levels of total fats, cholesterol, and saturated fats. Instead, they provide your body with more fibre and unsaturated fats.
Lower blood pressure
Reduce risk of heart disease
Lower cholesterol
2. Prevent Type 2 Diabetes
A vegetarian diet was associated with a 35% to 53% lower risk of developing diabetes, as risk factors for type 2 diabetes include obesity and bodily fat distribution. Fatty tissue causes the body to be more resistant to insulin. A plant-based diet reduces saturated fats and cholesterol, which can help reduce fatty tissue in turn.
3. Manage weight
Plant-based diets help you manage weight loss, cutting down on fatty tissues.
4. Keep your brain sharp
Studies show that a vegetarian diet can lower rates of dementia, Alzheimer's, and cognitive impairments as greens and nuts are rich in polyphenols, which have been found to slow the progression of neurodegenerative diseases.
5. Prevent cancer
Plants contain phytochemicals that may help protect your cells from damage. They are also high in nutrients, vitamins, and minerals, helping individuals remain healthier. Additionally, red meat and processed meats have been linked to certain kinds of cancers, including colon, rectum, prostate, pancreatic, and stomach. By eliminating these meats from your diet, you can reduce your cancer risk.
---
Vegetarianism: A Global Impact
Vegetarianism can help the environment. When it comes to food production, animals release more greenhouse gases than vegetables or grains, resulting in a higher carbon footprint. Global warming and climate change are exacerbated by these greenhouse gases. In addition to contributing to greenhouse gas emissions, a meat-based diet consumes a lot of additional resources, such as water. A single chicken breast necessitates more than 140 litres of water. Plants, on the other hand, use less water over their lives in comparison to their yield.
Full Vegetarianism?
No need! Just swap a meaty meal for a lighter yet richer, healthier protein dish. Lisa Bryan is a well-known recipe developer and food blogger. On her website, Downshiftology, you can find over 70 recipes for breakfast, lunch, dinner, or even snacks.
---
Potato Salad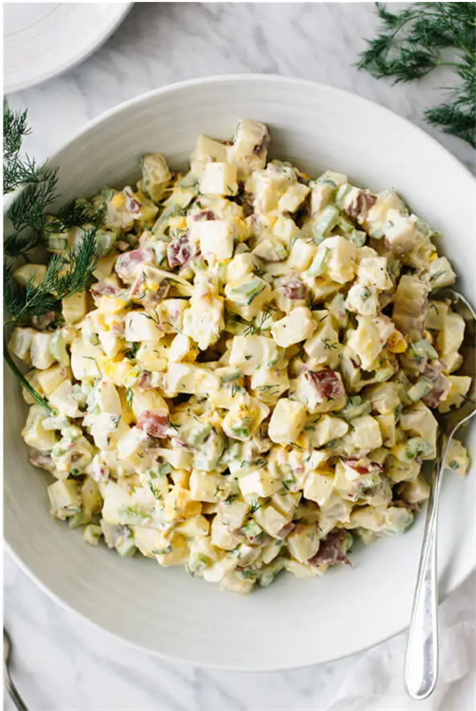 INGREDIENTS
7 potatoes
6 eggs
3 stalks celery, sliced
4 spring onions, sliced
6 radishes, grated
1 cup mayonnaise
1 tbsp dill weed
1/2 tsp sea salt
1/4 tsp pepper
INSTRUCTIONS 
Boil potatoes until soft.
Boil eggs to your preference.
Place both the eggs and potatoes in the refrigerator to cool completely.
Prepare the celery, radishes, green onion, and dill. Add the ingredients to a large bowl along with the mayonnaise.
Once your potatoes and eggs are fully cooled, peel the eggs and cube both the potatoes and eggs. Add the mayonnaise and vegetables to your mixing bowl. Stir gently until well combined.
---
Berry spinach salad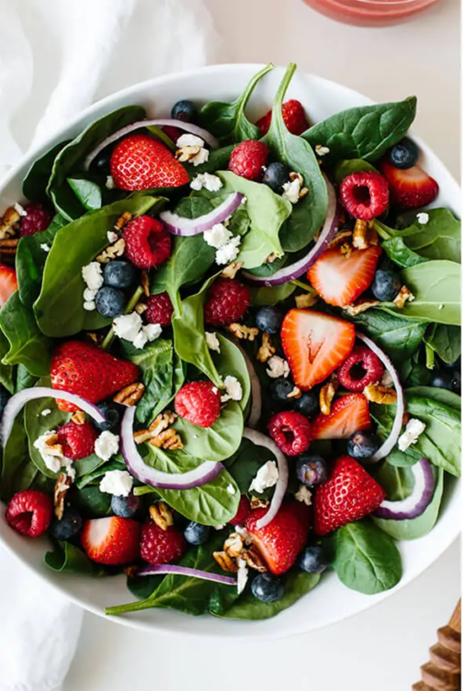 INGREDIENTS
6 cups baby spinach
1 cup strawberries, halved
1/2 cup raspberries
1/2 cup blueberries
1/3 cup goat cheese, crumbled
1/3 cup red onion, thinly sliced
1/4 cup pecans, roughly chopped
1/2 recipe Raspberry Vinaigrette
INSTRUCTIONS
Add the ingredients to a large mixing bowl, and mix them all together.
Serve the salad with the raspberry vinaigrette dressing.
---
Chia Seed Pudding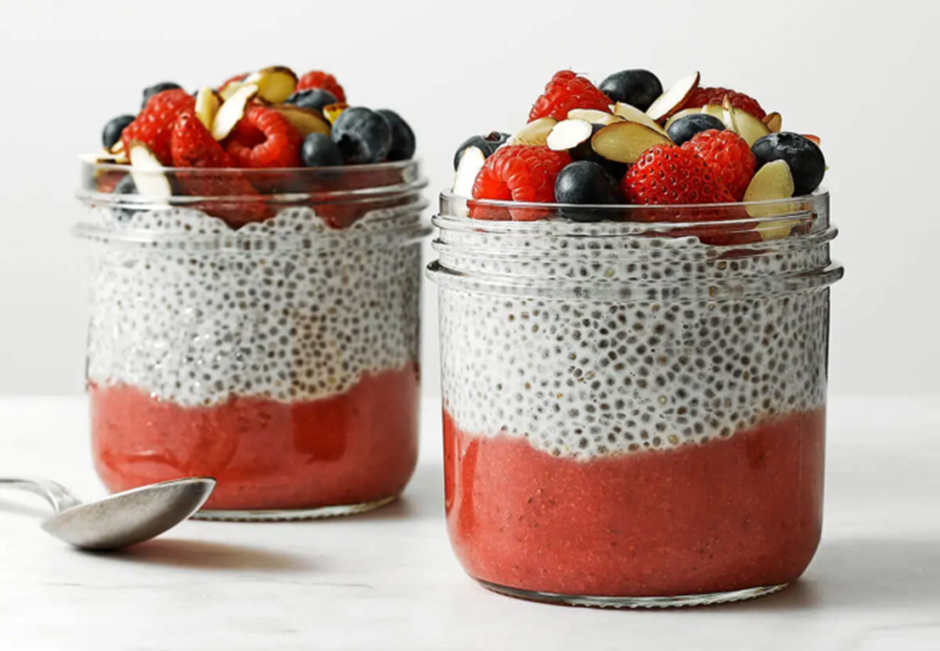 INGREDIENTS 
½ cup milk
2 tablespoons chia seeds
1 teaspoon maple syrup
½ teaspoon vanilla extract
Optional toppings: fresh fruit, nuts and seeds.
INSTRUCTIONS 
Add the chia seeds, milk, maple syrup, and vanilla to a bowl or jar and stir together. Let it sit for 10 minutes, then stir again once the seeds have started to gel.
Cover the bowl or jar and place it in the refrigerator for at least one hour. Chia seeds can also be made overnight for breakfast the next morning.
Stir the chia pudding before serving and add your favourite fruit, nuts, seeds, and spices.
You can layer the chia pudding on top of a strawberry fruit puree.
---
Granola Bars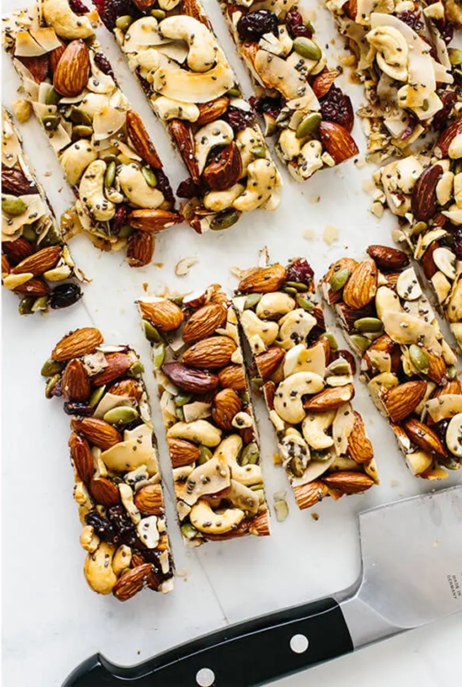 INGREDIENTS 
2 cups nuts (almonds, cashews, pecans, walnuts, etc.)
1/2 cup dried coconut
1/4 cup dried cranberries
1/4 cup pepitas
1 tablespoon chia seeds
1/4 teaspoon sea salt
1/4 cup maple syrup
1 teaspoon vanilla extract
INSTRUCTIONS 
Preheat your oven and line an 8×8-inch baking pan with parchment paper.
Add all of the nuts, seeds, dried fruit, and salt to a mixing bowl and give it a stir.
In a separate small bowl, stir together the vanilla extract and maple syrup. Pour this on top of the nuts and stir everything together until it's well coated.
Pour the mixture into the baking pan and use the back of a large spoon or spatula to flatten it into one layer.
Bake for 30-35 minutes, then cool for one hour in the pan.
Once the granola bars are fully cooled, slice them into bars.
---
Zucchini Noodle Caprese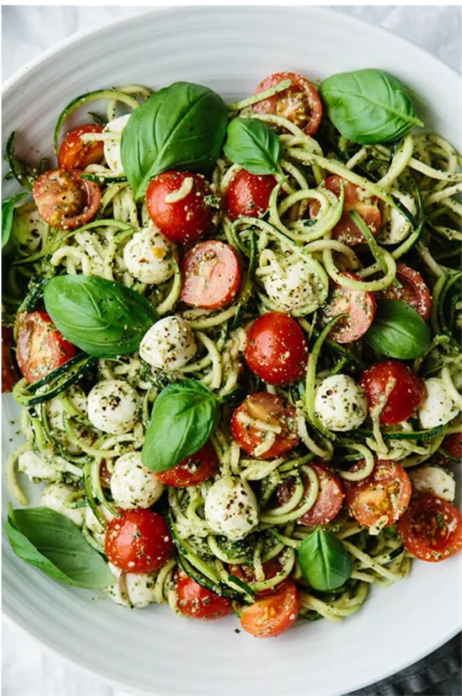 INGREDIENTS
4 medium zucchini
cherry tomatoes
mozzarella,
BASIL PESTO
2 tbsp raw pine nuts, plus extra for garnish
1/4 cup raw cashews
1 cup packed basil leaves
1/3 cup olive oil
2 garlic cloves
1 tsp lemon juice
1/4 tsp salt
black pepper, to taste
INSTRUCTIONS 
Toast the pine nuts in a pan on medium-low heat for 5 minutes, tossing gently. Then place them in your food processor.
Toast the cashews in the same pan for 10 minutes, tossing gently. Then transfer to your food processor.
Add the remaining pesto ingredients to your food processor, except the olive oil. Pulse until the ingredients are mixed. Turn your food processor on while slowly pouring in the olive oil. Process until your pesto is smooth and creamy, then set aside.
Cut the ends off each zucchini and use a spiralizer or grater to create zucchini noodles. Place these in a large bowl.
Cut your tomatoes in half and place them in the bowl with the zucchini. Cut your mozzarella balls in half and place them in the same bowl.
Using a spoon or spatula, remove all of the pesto from the food processor and add it to the bowl. Mix all of the ingredients together until well combined. Serve immediately.
---
Now that you know vegetarianism can aid in weight loss, help with brain health, and reduce disease, you can switch up your weekly menu to tap into the same benefits. It is great to keep in mind that good food also brings a good mood. It merely comes down to making the shift to live healthier.
Take care of your body. It's the only place you have to live.

Jim Rohn