Recovering from the Covid-19 aftereffects, September 2021 has rather been a much needed month as it brought with it the first of its kind: The Vinyls Comedy Hour Show, which has taken off since then, breaking records of sold out shows.
Afterbreak Magazine got to chat with Vernon van Wyk, a multifaceted gent. He's a creative, style director, a marketing student, and an events coordinator. The mastermind behind, and coordinator of Vinyls Comedy Hour, delightfully shares its history. As well as how he seamlessly handles the event marketing.
---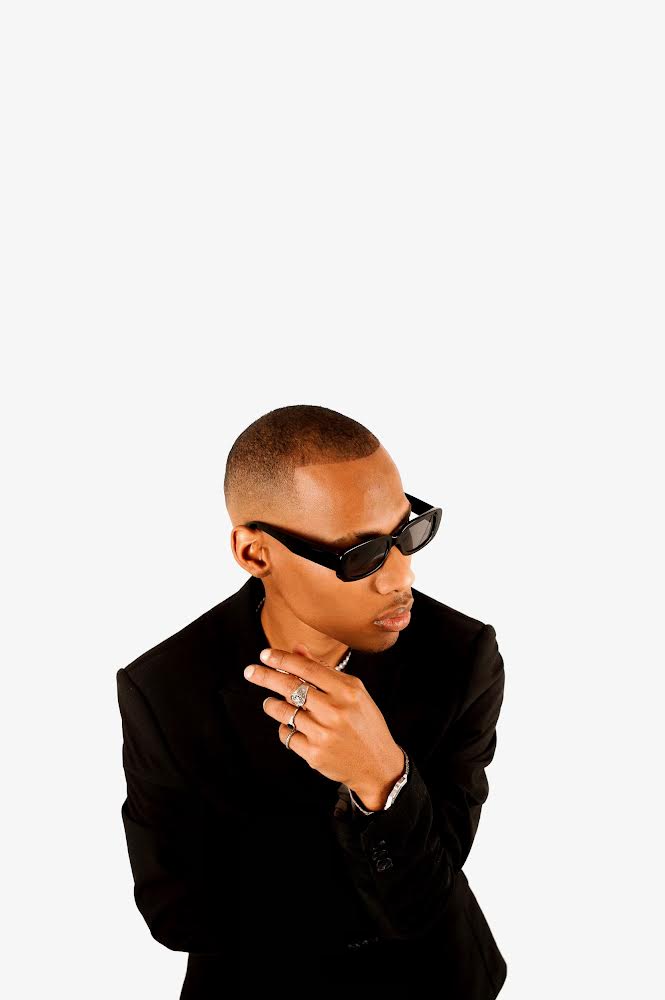 In the beginning
The birth of Vinyls Comedy Hour is owed, and massive props are given to a resident comedian and friend to van Wyk, Aloys Murorua, aka Axarob.
"It all started when he (Axarob) approached me to help organize his debut one-man Comedy Show. I came up with the event concept and proposal, and approached the owner of Vinyl with the Idea, who luckily at the time was also considering hosting comedy events and the rest is history."
---
The perfect venue
The venue, Vinyls Music Café, is van Wyk's favourite place, hence the choice. It offers the warmest ambiance with breathtaking, nostalgic esthetics. It's of average size to the physical eye but the expansive aura does it perfect justice. "I like the fact that it's intimate and performers can feel the energy of the crowd."
---
Event Logistics
Vinyls Comedy Hour is planned, organized, and marketed by Free Generation, a newly established media company by van Wyk, with the support of resident comedian Axarob and in partnership with the Vinyls Music Café.
Planning largely focuses on reaching out to comedians as well as performing artists. "Almost everyone we had was willing and excited to be part of the project and were keen to help the project grow," van Wyk adds.
Marketing follows thereafter, one which van Wyk emphasized as crucial.
"I try to give a 100% when it comes to marketing because no one will promote your project more than you. Slacking puts the event at risk."

Vernon van Wyk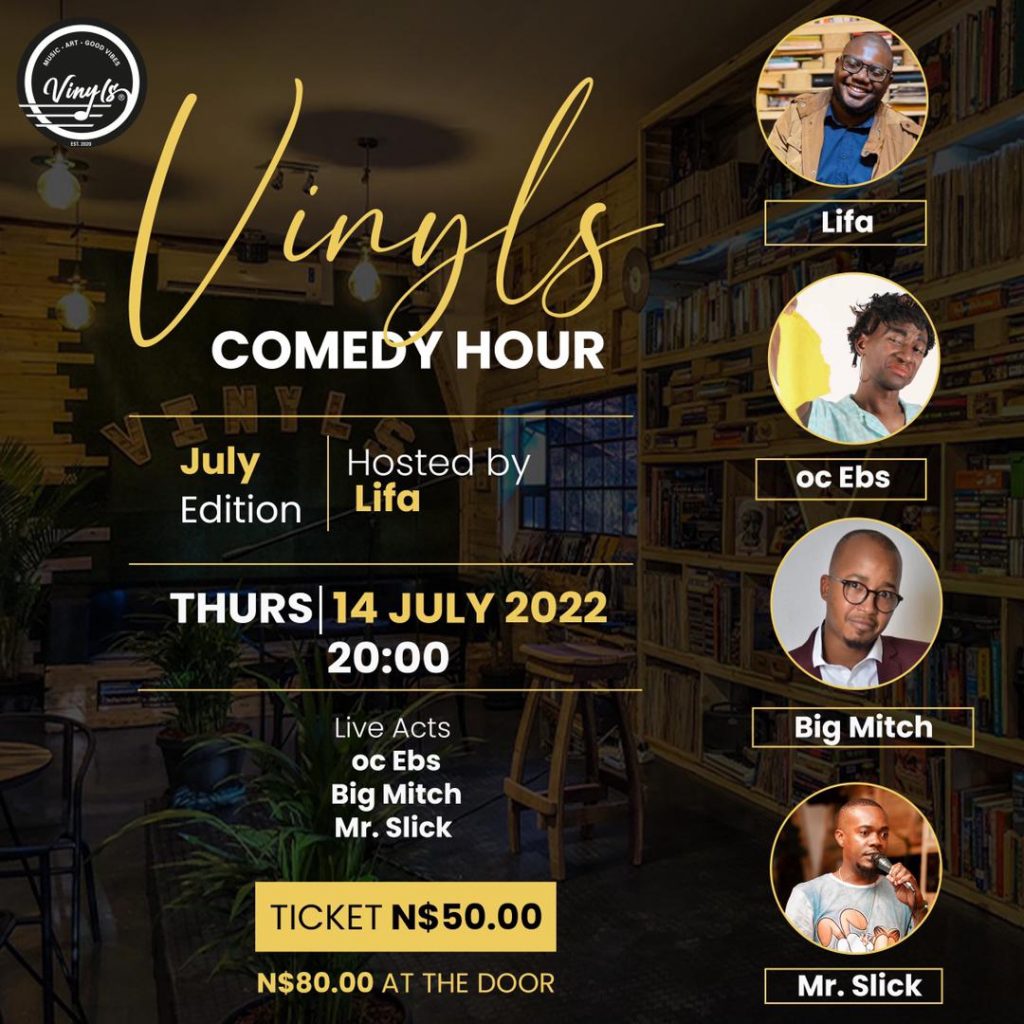 Marketing content is shared widely and consistently on all social media platforms to reach its targets. "We have fortunately worked with comedians who promoted the event, each one pulling their crowd," says van Wyk.
---
Reaching Out to Comedians & Performing Artists
"We owe the success of the event to all the comedians and musicians who graced our platform."

Vernon van Wyk
Stepping into the comedian galore at its foundational stage, the OG Comedian Mark Kariahua gets the flowers. "He gave me a long list of comedians I can pick from. I respect and have to thank him for that," says van Wyk. More comedians came in after recommendations by other comedians and funnily confessed to scouting others at comedy shows they attended.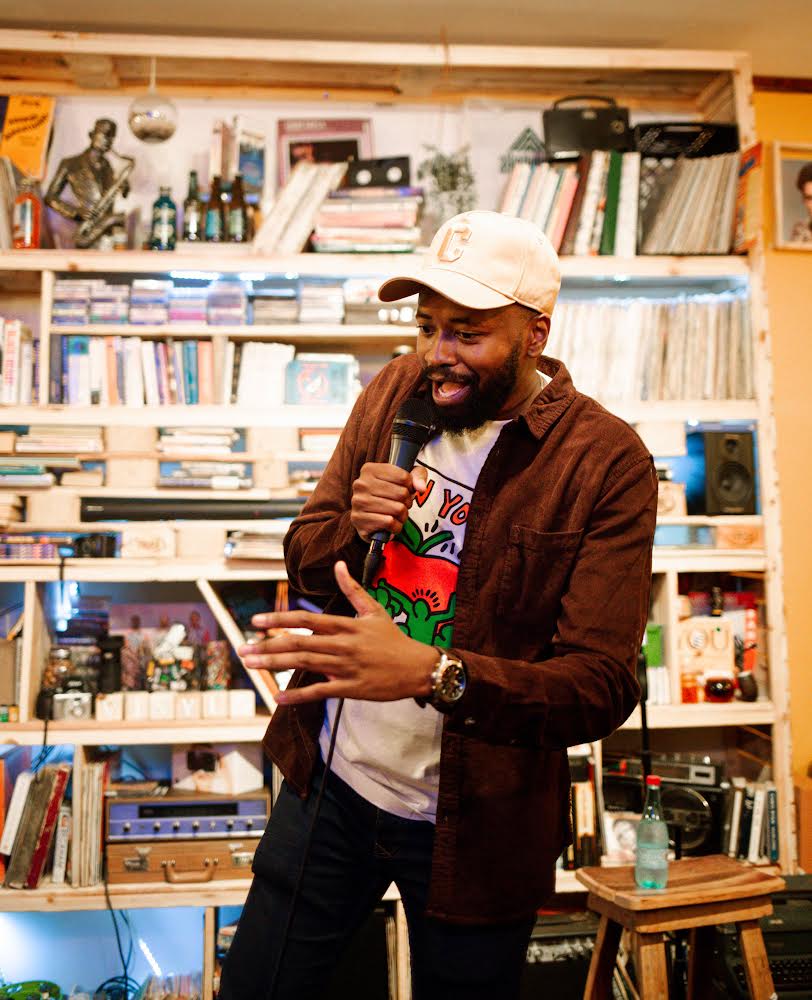 Namibian stand-up comedy superstars grace the Vinyls Comedy Hour stage. Such as Mr. Slick, Mark Kariahuua, Chelsi Shikongo (NamibianGirlHumor), Zita, Big Mitch, Jonathan, Hildegard, Lloyd The Comedian, Life, Axarob, and Courage the Comedian.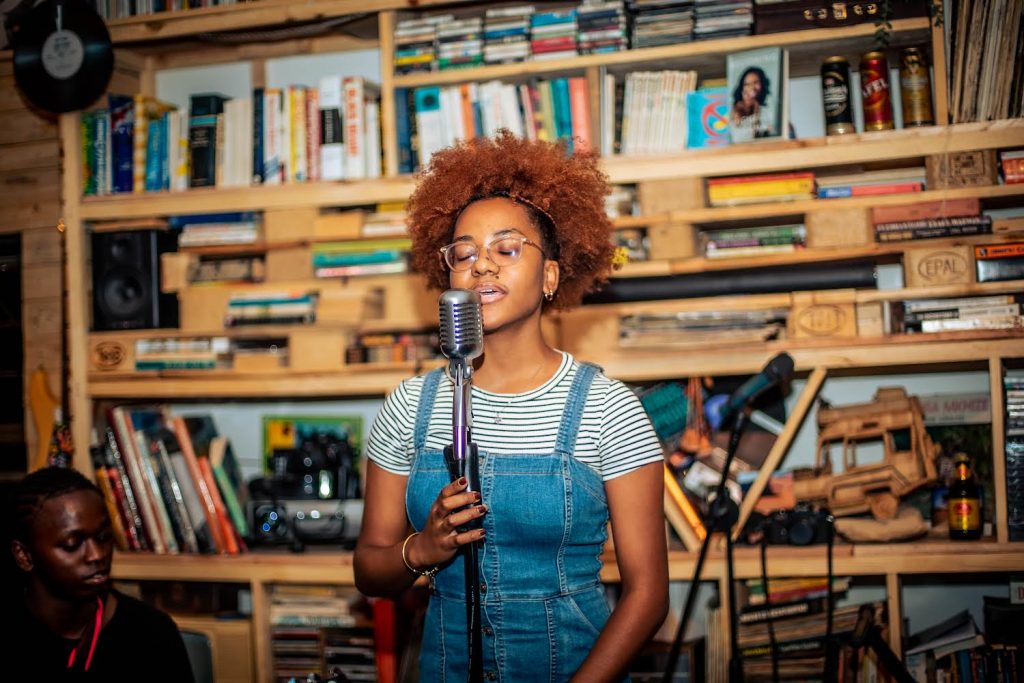 ---
Throwback to the First Edition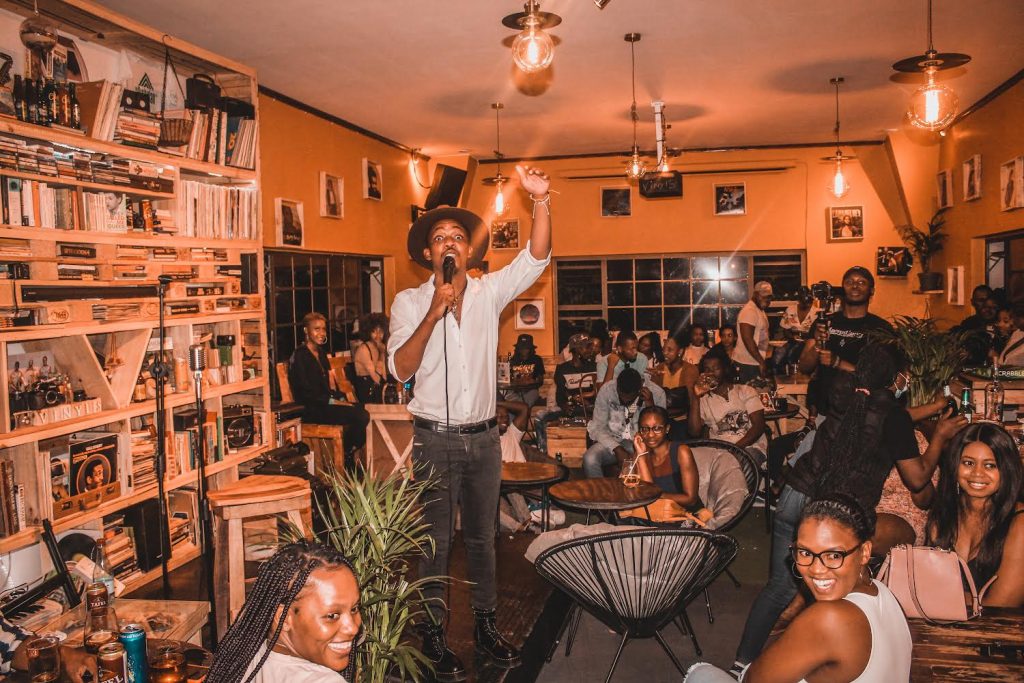 Starting something new is risky, associated with fear, anxiety, excitement too. Piercing through the dropback of fear of failure, van Wyk boldly went ahead with ticket sales which mysteriously sold out at the speed of light a week before the event.
The show kickstarted with 4 comedians – Axarob, Hildegard, Janice, Courage The Comedian, and Natangwe. Musician and Rapstar Kevo Maro serenaded the crowd with elite bars.
"They all did amazing, a proud moment indeed."

Vernon van Wyk
---
Even the Smallest Seed Grows
The first edition set the bar, and more comedians started reaching out. "Previously, I was the one doing all the reaching out." The loyal community grew bigger, which made the marketing easier. "The event now promotes itself because people know about it compared to when we started. Shout out to other comedy platforms that have been supporting the show as well," van Wyk gratefully shares.
"As a creative, do not sit on those great ideas. If you see a demand for it, do your research, get a team with the same vision and pursue it."

Vernon van Wyk
With inclusivity at its core, the event sincerely calls for the more active participation of women and members of the LGBTQI+ community.
---
Lord of Sold-out Shows, Teach Us Your Ways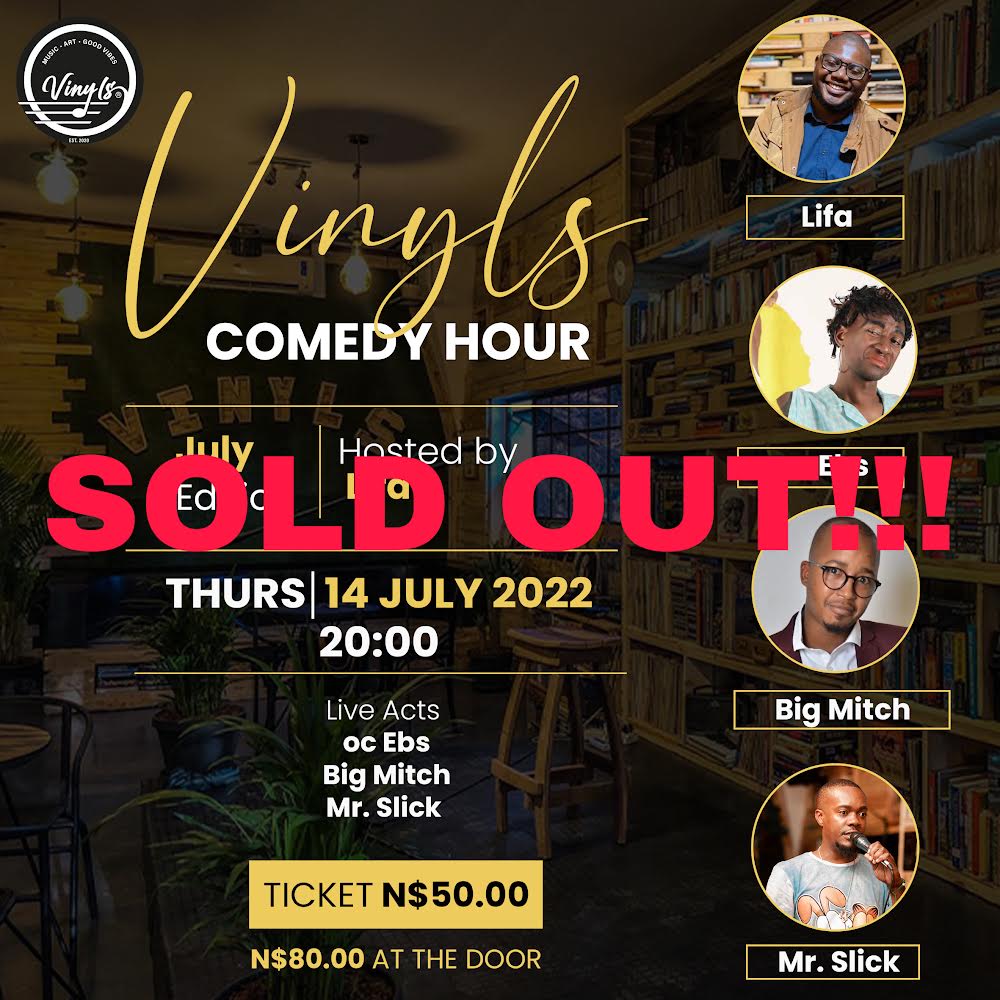 The majority of the shows have sold out, with payments made upon entrance. It is only fair that van Wyk spills the tea. How does he do it? "Believe me, there is no secret for me. I try to push this event as much as I can and hope for the best (laughs). But like I said, No one can promote your project more than you," advises van Wyk.
In addition, the database of loyal attendees stays the stronghold for the show's success. "They also share promotional content and always bring new people along. Our tickets are also reasonably low, at only N$50.00," van Wyk adds.
---
In Context: the Namibian Comedy Industry
Despite having kicked off during a perilous time when Covid-19 has hit and many were still recovering from the umpteenth wave effects, the event has astonishingly facilitated the awakening of comedy from its slumber and revived Stand-Up Comedy. Van Wyk further stressed on the need to have as many platforms availed to comedy.
"We need platforms like this that allow young aspiring comedians, platforms that show how talented Namibian comedians are."

Vernon van Wyk
---
Future Plans
If a sponsor gets on board, Vinyls Comedy Hour will spread out its wings and soar. "Hopefully we can take it to TV or YouTube and perhaps even have a national tour one day," he says. Firmly believing in the power of possibilities and manifestation thereof, van Wyk says, "I trust we are working towards all this, so I'll keep a copy of this article until we get there."
In other exciting news, the August edition is especially dedicated to women in Comedy, with a ladies-only line-up. Therefore, be sure to secure your ticket(s)! Furthermore, Vinyls Comedy Hour's 1 year anniversary is coming up in September and it will be nothing short of excellent.
In search of timeless comedy that'll have you crackling like a roadside popcorn machine? And do you have an insatiable quest for laughing so much that trying to breathe would be futile? Look no further than Vinyls Comedy Hour!
Follow Vinyls Music Cafe, Free Generation and Vernon van Wyk for all things comedy.